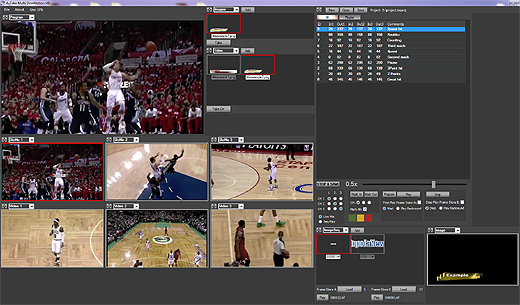 Avtake Multi Slow Motion HD
Multi camera angle slow motion playback for sport events
Three channel HD live video buffering
Three channel video buffers capture to fast SSD M.2 disk or SSD RAID0 array to playback slow motion review
Three channel simultanous video playback (no audio) with 1x, 0,5x, 0,33x and 1.25x speed. Speed change during playback.
Camera angle cut instantly during slow motion playback
Tree camcorder full HD quality 50i/60i YUV 4:2:2 uncompressed video buffers save to SSD RAID0 storage. Video prosessing in native video camcorder format without color space conversions
When something interesting happens in playing field editor stops video buffering and all camera buffers (4-18sec) have automatically saved to SDD RAID0 disc array
Table lists for all and Playback sequence clips
HD-SDI or HDMI video output to video mixer (Blackmagic Design output video device required)
Keyboard short cuts for fuctions
AVI video file export from Playback event lis to use events in video editing software
Stinger transitions to palyback start and stop events
PNG and TIFF title overlays and bin. Image suorce channel and bin
Live video preview for all live video input channels and playback channels without external video monitors
Full quality YUV4:2:2 video output interface supports Blackmagic Design capture cards
Easy to use user interface
Download trial version
Buy Multi Slow Motion HD Now!
Buy Multi Slow Motion HD software license
Now only 369€ / 379$ VAT exluded
Normal price 489€ / 499$ VAT exluded
Playback lists for sport events
When something interesting happens in playing field editor stops video buffering and all camera buffers (4-18sec) have automatically saved to fast SDD M.2 disk. After saving video playback is ready to slow play and changing in/out points and camera angles.
Events list table have is in/out points and comments for event. Playback can be live playback with instant camera angle change or sequenced play. You play different camera angles sequenced.
Video playlist table is used to play free sequence of different clips from different camera angles. This is suitable to play multiply event sequences with in/out points and comments for events.

Minimum system requirements!
3pcs Blackmagic Design PCI-E I/O for live inputs, one for output (Total four video devices). Decklink DUO and Quad I/O series cards are supported with input loop to output.
Blackmagic Design capture card for full quality video output. Please check your mother board that it includes enough free PCI-e slots
12GB RAM
Any Intel Core i7 processor
Windows 7 64bit, Windows 8.1 64bit, Windows 10 64bit
Graphics card with hardware based DirectDraw overlay with 32-bit color. Intel i7 processor integrated craphic adapters also supported. Two port display adapter is required to preview full screen video.
Fast SSD disk with over 1500MB/s write speed or SSD RAID 0 array configuration for video storage, 480GB storage or large recommended. For Example CORSAIR SSD 480GB MP500 NVMe M.2 (write speed 2400MB/s) or Samsung 960 PRO SSD 512 Gt M.2 (write speed 2100MB/s)
SSD for Windows drive, 7200RPM hard drive for backups.